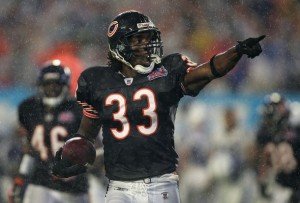 During ESPN's Monday Night Football broadcast this week, analyst Jon Gruden proclaimed that Packers cornerback Charles Woodson is the best ball-stripper he's ever seen.
It was an interesting statement given that Bears cornerback Charles Tillman has forced more fumbles than Woodson both this season and in their careers.
Told what Gruden had said, Bears cornerback Zackary Bowman replied: "Then [he hasn't] watched Peanut do it because he's the best. He does it in the games, he does it in practice; he does it every day. He probably does it in his sleep too. That's his craft, and for the most part, he's mastered it."
This season, Tillman is tied for the NFL lead with six forced fumbles, including three in a Week 11 loss to the Eagles. He now has forced 21 fumbles in 95 games over seven seasons, a rate of one fumble in every 4.5 games. Woodson has caused 17 fumbles in 164 games in 12 seasons, a rate of one fumble in every 9.6 games.
Bowman forced a fumble in last Sunday's win over the Rams, but he knows that he has a long way to go before being as adept in that aspect of the game as his teammate. As for Tillman, he insisted that he wasn't offended by Gruden's comment about Woodson.
"I don't care about none of that stuff," Tillman said. "Everyone's entitled to their own opinion."
Larry Mayer – Bears Web Writer