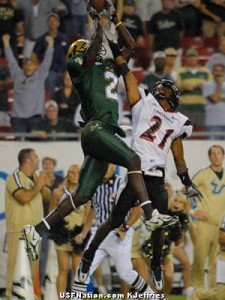 Looking for the next Brandon Marshall, or at the least a WR that is tall enough to ride all the rides at Disney World.  Knox, Bennett, Hester, and Rashied are all 6'0″ and under.  Aromashodu is 6'2″, but I feel he's still unproven.  Plus, it's not a bad thing to have more than one tall, talented receiver, that will go up and get a jump ball.  And I don't really care if he "fits" in Martz's new system, because what's the chances Martz is here next year?  Exactly.  There are a handful on 6'3″ and taller receivers, that run at least a 4.49 40-time that are projected to go from rounds 3-6.  Let's take a look at a few of them.
Carlton Mitchell  6'4″, 212  USF (projected 3rd round)
Ran a 4.42 and gets to a top speed faster than expected for his height.  Eats up cushion and blows by defenders.  Excellent red zone threat and runs great stop and comeback routes.  He is also a willing and effective blocker.  Uses his huge 10-5/8″ hands well to snag the ball.
David Gettis  6'3″, 217  Baylor (projected 4th round)
Accelerates quickly off the line with his 4.47 speed and gets past corners with his long strides.  Has great body control, and can sell the deep route, making curl routes easy completions.  Still a little raw, and will need to be coached with his route running, but has the potential to be a dangerous receiver.  Oh, and Lovie, if you're reading this, he can also return kicks.
Riley Cooper  6'4″, 222 Florida (projected 5th round)
Uses his 10 1/2″ hands well to get a free release at the line and can eat up cushion quickly.  Times his leaps well, and has definite size advantage against defenders.  A savvy route runner, but also has good body control to extend for poorly thrown passes (for when Jay is running for his life).  Loves the game of football so much, he turned down a contract to play baseball for the Texas Rangers.  Ran a 4.49 40-time.
Marcus Easley  6'3″, 214  UConn (projected 6th round)
Ran a 4.46 40-time and uses his strong hands to snatch the ball out of the air.  Can sell routes to shake defenders, and uses his size for jump balls.  Also, a solid and willing blocker.  A little raw from inexperience while at UConn since they were mostly a got off the bus running run oriented team until his senior season, when he caught 48 passes.