New Bears GM Phil Emery stated this week that they have targeted 7 players for their 19th overall pick.  I've thought long and hard about who those 7 players may be.  I 've taken into account all the the Bears needs, and areas where they need depth.  A first round pick MUST see the field this year.  If not in a starting role, then he must be in a rotation.  In no particular order: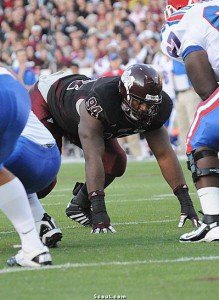 DT Fletcher Cox – 6'4″, 299 lbs (Mississippi St)
DE Quinton Coples – 6'6″, 284 lbs (North Carolina)
DE Whitney Mercilus – 6'4″, 261 lbs (Illinois)
DE Chandler Jones – 6'5″, 266 lbs (Syracuse)
WR Michael Floyd – 6'3″, 220 (Notre Dame)
WR Kendall Wright – 5'10", 196 (Baylor)
S Mark Barron – 6'1″, 214 (Alabama)
I believe the Bears will use the first 3 rounds to address defensive line, safety, and wide receiver.  It all depends on who is on the board at the time they pick, and who has the highest grade, will determine the order that they'll pick players for those positions.  Now they might make an audible and select a TE or CB if a certain player falls to them.  Sorry, but I just don't see the Bears addressing the OT position until later in the draft.  And I'm not even sure if they'll bother with taking a OG or a C since they have an entire team full of them already.  Teams with the best passing game, along with the best pass rush wins games and championships in this league now.  Also, in Lovie's defense, there is a lot of pressure put on the safety position.  That's why I see the Bears addressing those positions (DL, WR, S) with their first 3 picks.  I'll have a better feel for their 2nd and 3rd round picks after round 1 is completed tomorrow night.