CB Isaiah Frey – 5'11", 190 lbs (Nevada)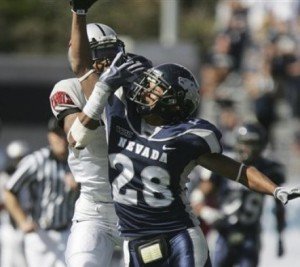 Frey played every game as a true freshman, and continued to play in every game during his 4 year career at Nevada.  Last year he led the team with 5 interceptions and 21 pass break ups.  Possessing 4.46 speed, he was selected 1st Team All-WAC as a senior.  He helped Nevada improve it's pass defense effenciency, ranking No. 28 in the country.  He'll provide competition to veterans Kelvin Hayden and Jonathon Wilhite, and will challenge for the Bears 6th cornerback spot, and possibly at back up nickel.
CB Greg McCoy – 5'10", 181 lbs (TCU)
McCoy led the Mountain West, and ranked 6th nationally last year with a kickoff return average of 30.6 yards.  Selected by Cbssports.com and Yahoo Sports for All Amercian at kick returner, and also took home the Mountain West Special Teamer of the Year award.  Defensively, he won the Poinsetta Bowl Defensive MVP trophy with his interception and 24 yd return for a TD.  He ran a 4.42 at his Pro Day.  He, along with Frey (see above), will battle it out for the 6th cornerback position.  Frey has the size advantage over him, but McCoy could be more valuable because of his return skills.  Most likely, I see a practice squad player here, and could be activated to the roster with an injury to Weems or Hester.