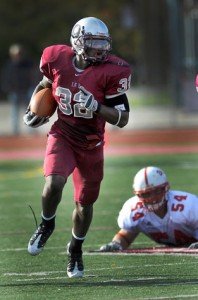 The Bears are quietly coveting some Cornerbacks before next weeks draft.  Some project as more of a Free Safety in the NFL, which would be nice, but some quality depth at corners would be a smart pick too.  Currently, Zachary Bowman looks to start opposite Charles Tillman, with Corey Graham backing them up.  Newly acquired Tim Jennings best fit seems to be at nickel back.  Unproven  DJ Moore will likely struggle to see the field again this year.  Here are a few possibilities to add depth and also some Safety prospects:
Jerome Murphy 6'0″ 196  South Florida (projected 3rd rd)
Despite his lanky frame, Murphy is one of the biggest hitters in this years cornerback draft class.  Willing and physical tackler on the outside.  Uses a good burst and his 4.50 speed to track the ball in the air.  Can play press coverage, but seems more comfortable in a zone defense.  While sometimes a step slow getting to a receiver in his zone, he will lay that receiver out.  Extremely tough, and uses his long arms to break up passes.  Would be a good value pick if he falls to the 3rd round.
Akwasi Owusu-Ansah 6'0″ 207  Indiana (PA) (proj. 3rd rd)
Plays with aggression at the line, while showing good flexibility and footwork in his backpedal.  Could flourish in a zone system at the Free Safety position.  Oh, and he's fast…real fast.  Ran a 4.32 40-time.  Also has excellent hands, and is strong enough to snatch the ball out of the grasp of receivers.  You might want to start practicing pronouncing his name, because, well, he is also a great kick returner.  Some scouts have him being taken in the 2nd round, but a shoulder injury might drop him into the 3rd and even early 4th. (pictured)
Amari Spievey 5'11" 195  Iowa (projected 4th round)
Very experienced zone corner.  Has great awareness of receivers and the ability to close in either direction.  Has great hands, and can adjust to the ball to make a play.  A good tackler, registering 124 tackles his last two seasons at Iowa, showing a willingness to support the run.  With his 4.52 speed, sometimes gets caught behind a receiver.  Will need to use his instincts and not get fooled with double moves.
Myron Lewis 6'2″ 203  Vanderbilt (projected 5th rd)
With his size and good read and react skills, has the ability to play Safety at the next level.  Recognizes and diagnoses routes, then puts himself in great position to make a play on the ball.  Can read the action in the backfield in order to jump routes.  Plays the run well, is a secure open-field tackler, and is willing to lay the wood when called upon.  Uses his 4.42 speed and agility to play multiple positions in the defensive backfield.  Since it seems that Jerry Angelo's main goal is to fill the entire roster with Vanderbilt Commodores, don't be surprised if he jumps on Lewis in the 4th round.