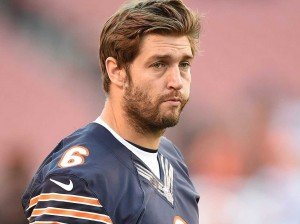 The Chicago Bears have many issues right now, from bad coaching to historically bad defense.  How  bad you ask? The Bears defense is 32nd in points against, and 26th in yards against, including 30th against the pass.  Oh, and don't get me started on the special teams.  But the focus of the criticism seems to be around the underachieving offense, notably the QB position.
All I've heard the last few weeks is that the Bears MUST get rid of Cutler.  He's the problem!  I've seen numerous articles about his contract and the cap hit the Bears would take if they out right cut him, or potential teams they could trade him to, like the Titans for example.  That's great!  Good thinking guys!  Except that leaves the Bears without a starting QB.  Not a single one of these idiots who wrote these articles gave a solution for this, except "draft a guy."  Sadly, many Bears fans right now are saying the same thing.  Oh, ok, because it's that simple.
There has been 36 QBs drafted over the last 3 years.  As of Week 12, only 8 of the 36 were starting.  4 from the 2014 draft, including Bortles, Bridgewater, Carr, and now Mettenberger.  ZERO from 2013 draft started Week 12, and only 4 started from the 2012 draft.  (One of them being RGIII, who just got benched.)
Cutler's stats thru Week 12 are:  66.8% completion pct, 2825 yards, 22 TDs, 12 INTs, with a QB rating of 93.0 (the highest of his career, even with all of his turnovers).
Take a look at these last 3 drafts, and tell me who you would rather have.  Oh, and you can't say Blake Bortles (not sure why you would anyway), Andrew Luck, or Ryan Tannehill, since the Bears did not have a top 8 pick those years, and will most likely not have a top 8 pick this year.
2014 Draft:
Rd 1 (#3 overall):  Blake Bortles – Started 8 games this year.  Has a 70.8 QB rating while throwing almost twice as many INTs (15) as TDs (8), and has 5 fumbles.
Rd 1 (#22) – Johnny Manziel  – He couldn't beat out the great Brian Hoyer for the starting QB position.    Note that Hoyer has a 82.3 QB rating and a 55.9 completion percentage. (Update: Manziel might get his first chance to start this week).
Rd 1 (#32) – Teddy Bridgewater – Has had 7 starts this season, with a QB rating of 75.7 rating.   Has 6 TDs to go along with 7 INTs.  His offense could only manage 158 passing yards against the Bears, who are ranked 30th vs the pass.
Rd 2 (#36) – Derek Carr – Started 11 games so far, with a 76.7 rating.  Has 14 TDs and 9 INTs with 6 fumbles.
Rd 2 (#62) – Jimmy Garoppolo – Currently the back up QB to Tom Brady.  The heir apparent? Jury is still out.
Rd 4 (#120) – Logan Thomas – Started year as #3 QB, but is now the back up to Drew Stanton because of Carson Palmer injury.
Rd 4 (#135) – Tom Savage – Currently the back up to Ryan Fitzpatrick.
Rd 5 (#163) – Aaron Murray – Third string QB behind Alex Smith and Chase Daniel.
Rd 5 (#164) – AJ McCarron – Was 3rd string QB before going on season ending IR.
Rd 6 (#178) – Zach Mettenberger – Has started 4 games for the Titans.  Rating of 86.7, completion percentage of 58.8, 7 TDs , and 5 INTs.
Rd 6 (#183) – David Fales – Currently on practice squad for the Bears.  Also known as a wasted draft pick.
Rd 6 (#194) – Keith Wenning – Cut by Ravens.  Free Agent.
Rd 6 (#213) – Tajh Boyd – Cut by Jets.  Free Agent.
Rd 6 (#214) – Garrett Gilbert – Cut by Rams.  Free Agent.
2013 Draft:
Rd 1 (#16) – EJ Manuel – Started 4 games with a rating of 80.3 and 58% comp pct before being benched for Kyle Orton.  Career rating of 78.5.
Rd 2 (#39) – Geno Smith – Started 8 games this season with a rating of 67.4, having 7 TDs and 10 INTs in those 8 starts.  Was benched for Michael Vick.  Geno has a career rating of 66.8.
Rd 3 (#73) – Mike Glennon – Rating of 83.3 this season with 5 starts, including 5 INTs.  Career rating of 83.7, and 58.8% comp pct.  Was benched for Josh McCown.  Note that McCown has a rating of 77.9 with 8 INTs in 6 starts.
Rd 4 (#98) – Matt Barkley – Currently the back up to Mark Sanchez because of Nick Foles injury.  Played in 3 games last year tossing 4 INTs.  Has a career QB rating of 43.8.
Rd 4 (#110) – Ryan Nassib – Currently the back up to Eli Manning.  Has only had 5 passing attempts in 2 years.   Note that Eli has a 88.0 rating this year.
Rd 4 (#112) – Tyler Wilson – Cut by Bengals.  Free Agent.
Rd 4 (#115) – Landry Jones – Currently 3rd string on Steelers depth chart behind Big Ben and Bruce Gradkowski.
Rd 7 (#221) – Brad Sorensen – Cut by Chargers.  Free Agent.
Rd 7 (#234) – Zac Dysert – On practice squad for Broncos.
Rd 7 (#237) – BJ Daniels – Cut by Seahawks.
Rd 7 (#249) – Sean Renfree – Currently 3rd QB on Falcons roster behind Matt Ryan and TJ Yates.
2012 Draft:
Rd 1 (#1) – Andrew Luck – 1st overall pick has a 99.4 QB rating this year.  The "Suck for Luck" campaign worked out well so far in Indy.
Rd 1 (#2) – Robert Griffin III – Only 5 starts this year with a 85.7 rating, including only 2 TDs to go with 3 INTs.  He's been benched for Colt McCoy.  His career in Washington (and maybe the NFL) looks all but over.
Rd 1 (#8) – Ryan Tannehill – In his 3rd year of starting every game.  Playing his best year so far with a 93.4 rating, 66.1 comp pct, while tossing 20 TDs and 8 INTs.  Last year he had a 81.7 rating, and a rookie year rating of 76.1.  Dolphins defense is 5th in NFL in yards against, and 8th in points against.
Rd 1 (#22) – Brandon Weeden – Currently the back up to Tony Romo in Dallas.  Weeden has a career QB rating of 71.8 and a comp pct of 55.9%.
Rd 2 (#57) – Brock Osweiler – Has thrown only 26 passes in the NFL as a back up to Peyton Manning.
Rd 3 (#75) – Russell Wilson – Super Bowl winning QB has started every game in his career.  Has a QB rating of 93.0 this year.  Wilson doesn't have to be stellar, just efficient since the Seahawks defense is 4th this year in points against, and 1st in yards against.
Rd 3 (#88) – Nick Foles – In his 8 starts this year before injury, had a rating of 81.4 with 13 TDs and 10 INTs.  Has taken a step back this year with last year rating of 119.2.  Mark Sanchez, who is the current starter for Eagles has a 86.8 QB rating.
Rd 4 (#102) – Kirk Cousins – Five starts this year with a rating of 86.4.  Has 10 TDs and 9 INTs.  Has started 9 games in career with career rating of 77.5.  Has been beaten out by Colt McCoy as RGIII's replacement.
Rd 6 (#185) – Ryan Lindley – Signed by Cardinals off of Chargers practice squad.  Currently 3rd string.
Rd 7 (#243) – BJ Coleman – Free Agent.
Rd 7 (#253) – Chandler Harnish – Free Agent.
So, what did you come up with?  Russell Wilson maybe?  Good job.  1 in 36 chance!  Those are some great odds.
Just remember, for every Aaron Rodgers, there are many more Christian Ponders and Geno Smiths.  The Bears have a top 12 QB (stat wise).  Would I like a top 5 QB?  Sure, who wouldn't?  But please stop expecting miracles from the draft.