The 2012 NFL draft is just around the corner.   The Bears are still looking for a true #2 WR.  I'm guessing they will take one in either the 1st or 3rd rounds.  Let's take a look at some prospects in those rounds.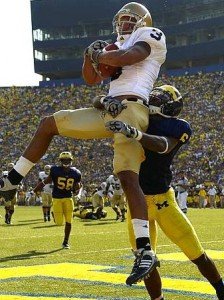 Michael Floyd – 6'3", 220 lbs (Notre Dame)
Floyd is a big, physical receiver with terrific body control.  Doesn't always create separation, he's more of a "go up and get it" guy using his 36.5" vertical jump when needed.  Not labeled as a burner, but did impress a few people by running a 4.47 40-time at the Combine.  Probably the best blocking WR in the draft also.  Floyd could go in the top ten, almost for certain in the top 20, so I don't expect him to be there when the Bears pick at #19.
Kendall Wright – 5'10", 196 lbs (Baylor)
Wright is a burner who can get behind the defense in a hurry.  Had a horrible Combine 40-time, but had a strong showing running a 4.41 and 4.46 at his Pro Day.  Can haul in the acrobatic catch, and is explosive in the open field.  He's quick in and out of cuts, creates separation.  He just has a knack for getting open.  He will still likely be on the board when the Bears pick at 19, projected to go late 1st or early 2nd round.
Stephen Hill – 6'4", 215 lbs (Georgia Tech)
Hill impressed scouts at the Combine by running a 4.36 40-time.  He is a phenomenal athlete, but is still very raw as a receiver.  Ran a really limited route tree in college, and doesn't have much for stats because of Georgia Tech's limited passing game.  Could be a diamond in the rough, or possibly a complete bust.  Only time will tell, but some team may take a chance on him in the first round.  I don't see the Bears taking him at 19, but may move up in the 2nd round if he's still on the board.
Marvin McNutt – 6'2 ½, 216 (Iowa)
McNutt is still maturing as a route runner, but is fearless in traffic.  Ran a 4.54 at the Combine.  Makes up for his lack of speed by being savvy, and using his 37" vertical and his long arms to come down with jump balls.  With good coaching, could become a reliable #2 WR for years to come.  If he's still on the board when the Bears pick in the 3rd round, he may be hard to pass up.
Nick Toon – 6'2", 215 lbs (Wisconsin)
Toon is a smooth route runner, and has great hands.  Son of old Jets WR great Al Toon.  He knows how to create separation, and can get off the line in press coverage.  Also a willing blocker.  Ran a 4.43 40 at his Pro Day, and has a 39" vertical.  His downfall is his durability.  His dad retired after 7 seasons in the NFL because of concussions, and Nick has already had some concussion issues, along with lingering foot problems.  Look for him to come off the board in the 3rd round.