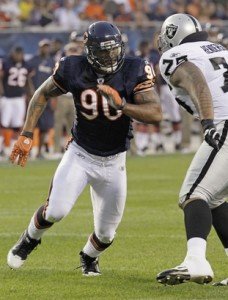 With the addition of Julius Peppers and with Brian Urlacher back in the line up, the Bears defense has a chance to be great average this season.  Let's take a look at each position.
DE – Welcome Julius.  Teams will have to gameplan on how to stop him.  Knowing that, the Bears would be smart to get him reps on both sides.  Rookie Corey Wootton looks to back up Peppers on the right side.  The left side will be a battle between Mark Anderson and Isreal Idonije.  Will Anderson looks to be the starter, Izzy is impressing so far in camp and preseason.  Henry Melton could be the odd man out here.
DT – Tommie Harris is actually healthy enough to practice, that's a first.  Let's see if that will translate onto the field.  Anthony Adams looks to start next to him, with Marcus Harrison backing them up being able to play both positions.  The battle will be between Matt Toeaina and Jarron Gilbert.  My guess would be to keep 4 – DE's and 5 – DT's with Gilbert also being able to play outside if need be.
OLB – Pisa Tinoisamoa and Nick Roack will compete for the starting job at strong side linebacker.  Right now Pisa is getting the reps with the 1's, but Roach won't go away easy.  On the weak side, Lance Briggs will remain awesome the starter, with Brian Iwuh providing depth.  Tim Shaw adds depth to both postions and is a special teams stud.  Hopefully, the Bears find room to keep all 5 of these guys.
MLB – Some guy named Brian Urlacher will return to his starting position in the middle.  The ever reliable Hunter Hillenmeyer will back him up.
CB – Charles Tillman and Zack Bowman will remain the starters, but will switch sides.  Corey Graham and Tim Jennings will back them up, with Graham penciled in at nickel back.  DJ Moore and Joshua Moore will compete for the last roster spot.
S – Chris Harris is back, and will start at free safety.  When healthy, Major Wright has impressed and will most likely start opposite.  Danieal Manning and Craig Steltz will rotate in when needed.  Josh Bullocks could be odd man out, and Quentin Scott looks like practice squad material.