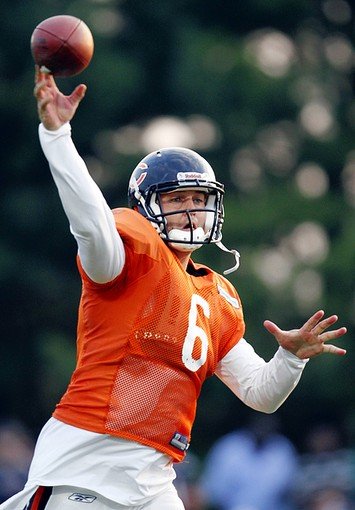 With training camp under way, there are still a few positions up for grab.  Only the hot days of August will decide the fate of a few.  Players in some positions seem like a lock, but lets still take a look at the depth as well.
QB – Jay Cutler – Everyone says he needs to throw less interceptions that last year.  Agreed.  But in won't be by much.  Mike Martz's system is to score everytime a take chances.  Either it'll be a marriage made in heaven, or will end worse than a Tiger Wood's divorce.  There's not much for back up behind Cutler, but history proves it most likely will not be needed.  Caleb Hanie seems to be struggling a little with Martz's system, but is still the back up favorite.  Dan LeFevour fell into their laps in the 6th round, but he's a project.  The signed Mike Teel, who knows the Martz system.  The Bears traditionally only carry two QB's on their roster, one on the practice squad.  But this year may be three on the roster…..should be interesting.
RB – Matt Forte – coming off a season long knee aggravation, Forte has been said to seem quicker and faster in OTA's.  So far in training camp, everyone has been impressed with his quickness.  He's back, healthy, and 100%.   But I'm not too concerned with Chester Taylor backing him up.  Actually, I wouldn't be surprised if Taylor gets more reps than Forte and the season goes on.  Either way, a great 1-2 punch.  The real story comes down to the 3rd string back.  Do they keep Wolfe, the special teamer, or Bell, a power runner?  But there's also a newcomer to the party, Harvey Unga, who is nursing a hamstring.   The question remains whether to carry three or four RB's.
FB – Eddie Williams was brought in from the Redskins.  Will Ta'ufo'ou is challenging for the position.
WR – Hester, Knox, Bennett, Aromashodu.  And I hate to say it, the 5th will be Rashied Davis or Juaquin Iglesias.  Ugh, seems like Davis is the favorite so far in training camp, damn him.   There really will be no position battles.  I don't believe Freddie Barnes will be able to beat any of these guys out.
TE – Brandon Manumaleuna and Greg Olsen are the only locks.  The rest is up for grabs.  Desmond Clark, Kellen Davis, and Richard Angulo for most likely a 3 position spot in the Martz system.
OT – Chris Williams is the only lock at starting LT.  Frank Omiyale is still running with the first team at RT, but is only one false start penalty away from riding the bench.  Shaffer provides a nice back up at RT if needed.  James Marten impressive so far, but still an uphill battle.  J'Marcus Webb still a project.
OG – It's a 4-way battle for 2 spots.  Garza, Beekman, Asiata, and Louis will battle it out in training camp.   While Beekman and Garza have the experience at the position, Asiata and Lance Louis have the size to dominate the position.   This is definitely the most intriguing battle to watch for.
C – Olin Kreutz will be your starter like it or not.   Beekman and Garza can both fill the position if there is a need.