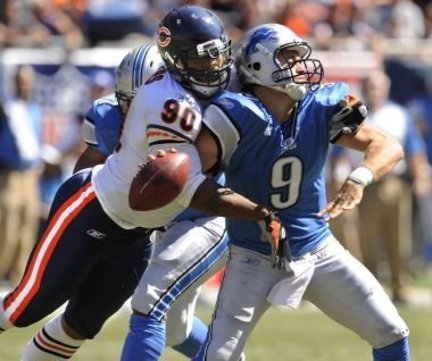 Here's some news and notes from the Bears lucky last minute win over the Lions.
* Can the Bears find some headsets that work please?  On the second play Cutler was already pointing to his helmet unable to hear the play.  Stop shopping at Radio Shack, thanks.
*Forte had 151 receiving yards, showing that the Bears can now run a successful screen play.  Welcome to the 1980's.
*Devin Aromashodu had 3 drops.  One was for a touchdown, and the other two he took a big hit on.  You're going to get hit anyway, catch the damn ball please.
*Bears went with an uneven line once.  Omiyale went over to the left side next to Chris Williams as Manumaleuna lined up next to RG Lance Louis.  Interesting formation, now if we only can get Omiyale to line up near the bench.
*On goal line plays, lets put Omiyale in the backfield, since that's where he usually ends up anyways.
*Matt Forte and Chester Taylor lined up in backfield together, pick your poison opposing defenses.
*Bears need to stop fumbling.  Forte fumbles at the 26 yard line, and Greg Olsen at the 8 yard line.  Stop it, no, seriously, STOP it!
*Pisa Tinoisomoa had a nice quiet game.  On one running play he blew up the pulling guard AND the fullback, clearing the way for Urlacher and Bowman to clean up.  On another, he took out the pulling guard while still maintaining the edge, turning the ball carrier back inside where help was waiting.   Keep doing the dirty work Pisa!
*After Pepper's strip sack, the Lions figured out how to stop him…….it's called holding.  And they did it well.
*Urlacher hit everything in sight.  Just do it BEFORE the whistle.  Thanks.
*Briggs had some huge plays.  Shooting the gap causing a fumble on the handoff and recovering at the 1 yard line was huge.  Now, if the Bears could only find a way to score from there.
*Lions couldn't run a screen.  Of course, it's hard to when Briggs rips the running back to the ground and then chases after the QB.  Then as the running back attempted to get back up to keep the play alive, Tommie Harris put him back on the ground.  Incomplete.
*Ok Lovie, you fooled us.  You made us think that DJ Moore was a real football player.  But the joke is over, get him off the field.  Put Manning back at nickel please.
*Ex-running back and now 260 lb Henry Melton should be in the backfield on short yardage and goal line.  Make it happen Martz!