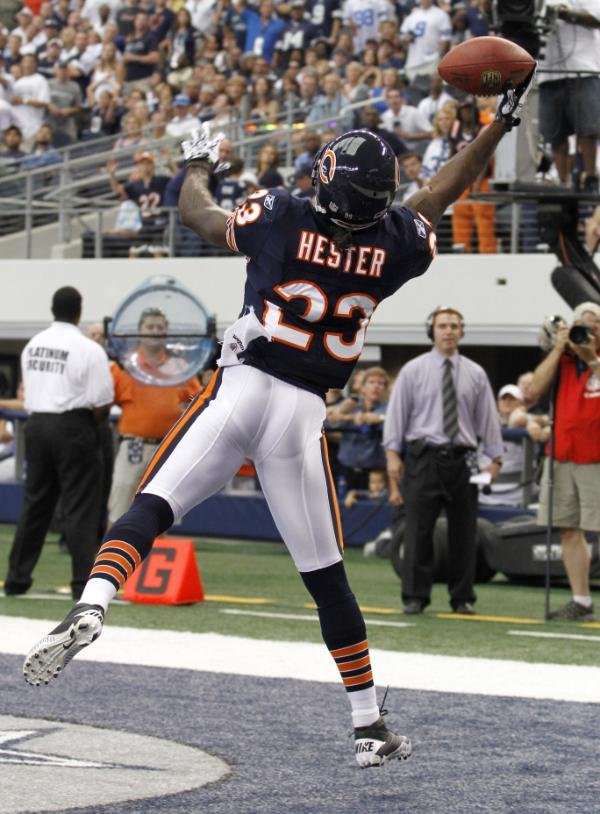 Big win for the Bears over the Cowboys!  Here's some things I saw during the game.
* Hey refs..throwing the flag on the blatant facemask to Jay Cutler would have been nice.  Bears would have had the ball at the 50 yd line and a 1st down.  At least Anthony Spencer got fined $5000 for it.
* Well, at least the headsets worked this week.  Now if the can only figure out how to adjust the "volume" so Jay can actually hear the play.  Idiots.
* To the offensive line:  Hey, we know you can't block, but can you at least help Jay up when he gets killed?  Thanks.
* Oh, and why is it that the refs always help Favre up, but I have yet to see them help up Jay? Must be a Grandpa thing.
* So far it seems like the special teams are the weakest phase for the Bears.  A punt got returned on them, and Hester is still running backwards.  Get on it, Dave Toub!
* Tim Jennings made a great heads up play.  Cowboys pooch kicked in the air, and since the ball didn't hit the ground, Jennings called for a fair catch.  Genius!
* Lovie still doesn't know when to challenge.  Seeing the replay once, I knew that the Cowboys ball carrier was clearly down and the ground caused the fumble.  The big ass tv above the field must not be big enough for Lovie.  Well, at least he didn't call a time out first.
* Hey Devin Hester, it's pretty simple.  When you line up, don't cover up an eligible receiver, i.e. Greg Olsen.  That was a big gain nullified.  C'mon Man!
* I loved on the 3rd and short qb sneak that ol' wiley Olin Kreutz already moved the ball across the line before the snap.  Nice veteran move.
* Mike "Mad Scientist" Martz.  Keep blitzing please, while he goes 4 wide and scores in 2 plays.  Thanks.
* Attn Tommie Harris:  Anytime you want to show up, it would be nice.  That goes for Mark Anderson too.
* Matt Toeiana had another nice game.  They can't run the ball with Toe and Anthony Adams in the middle.   Bears are currently #1 against the run.
* At some point the Bears have to get the running game going.  Ranked 28th.
* Major Wright with another injury and on the shelf for 4-6 weeks.  Not to worry, Craig Steltz is back this week….ugh.
* In the Week 1 Quick Hitters, I dogged on DJ Moore.  He then goes out and has a 2 interception game.  Nice job DJ, but I will NOT apologize until I actually see you hit someone.
* Speaking of hitting…Chris Harris is a beast.  That is all.
* Charles Tillman is the best in the league at hitting the ball out. Period. We could use a few more on Monday Night Peanut!
BEAR DOWN.