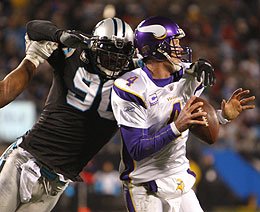 "Housekeeping, you want me fluff pillow?"
Those were possibly the words from Lovie Smith's mouth as he showed up on Julius Pepper's doorstep at 11:01pm CST, the first night of free agency.  For Lovie Smith, drastic times calls for drastic measures.  Criticized by his lack of aggressiveness, Lovie took it upon himself to escort to Chicago, THE biggest free agent on the market.  When I say big, I mean big.  Peppers is a 6″7″, 285 sack machine.  He eats pieces of shit quarterbacks for breakfast and makes home in opponents backfields.
He strikes fear in opposition.  Don't believe me?  The day after the Bears signed Peppers, Vikings coach Brad Childress flew to Hattisburg, Mississippi to visit Brett Favre.  I would guess he found Brett in the corner in a feetle position sucking his thumb.  All I know is Brett didn't tell him he was coming back.  It also forced the Packers to resign their two starting offensive tackles.  Clifton, who will be 34, and Tauscher, who will be 33, before the season starts.
The signing was a gutsy one and a smart one.  But of course, the morons on ESPN critics would have you believe otherwise.  Their excuse is that there were other holes to fill, like on the offensive line and at safety.  Which they are correct about the holes, but the season isn't starting tomorrow.  The Bears CAN still address those positions in free agency yet, or in the draft.  All I know is Peppers is WAY better than Ogunleye.  Is there a salary cap this year?  NO.  Did the Bears front load Peppers contract so his large salary doesn't handcuff them in years to come?  YES.   Seems pretty simple to me.